Creating a Standard Library Project¶
Important
The following steps assume you have a Architect Loader Spreadsheet (ALS) containing a Global Library Draft downloaded from Rave Architect.
At this point we could set up key information from the Rave Core Configuration but if you have a Standard Library which contains references to EDC Roles, Marking Groups and Review Groups (for example, in Form or Field View / Entry Restrictions and Review Groups) then there is a faster way to set these up using Diagnostics 0018, 0019 and 0021 which automatically create these entries in the URL Configuration from values in a Study Draft or Library Draft.
For now, we'll create a Project in which we'll keep Standard Library Drafts. First go to the Project List for the URL: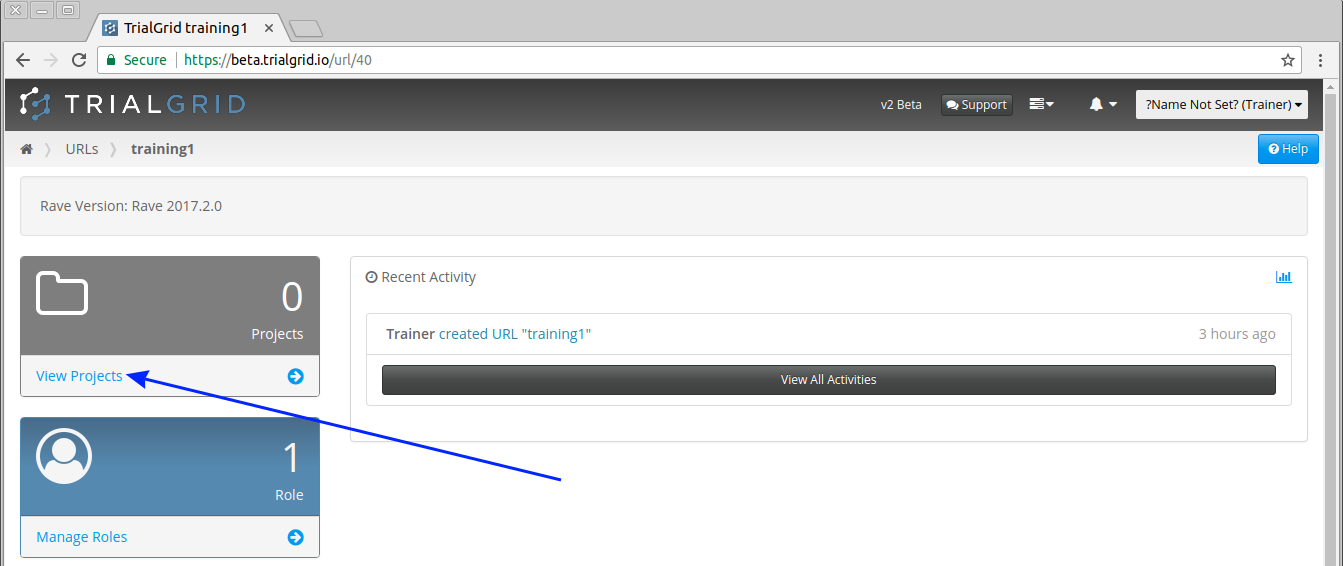 There are currently no Projects. Click the

button.

In the Add Project page enter the name of your Standard Library. The Protocol Name and Description don't matter for Standard Library Projects but these fields are required. Just copy the name of the Standard Library Project to these fields also. Ensure the "Contains Standard Libraries?" and "Is Active?" checkboxes are both checked.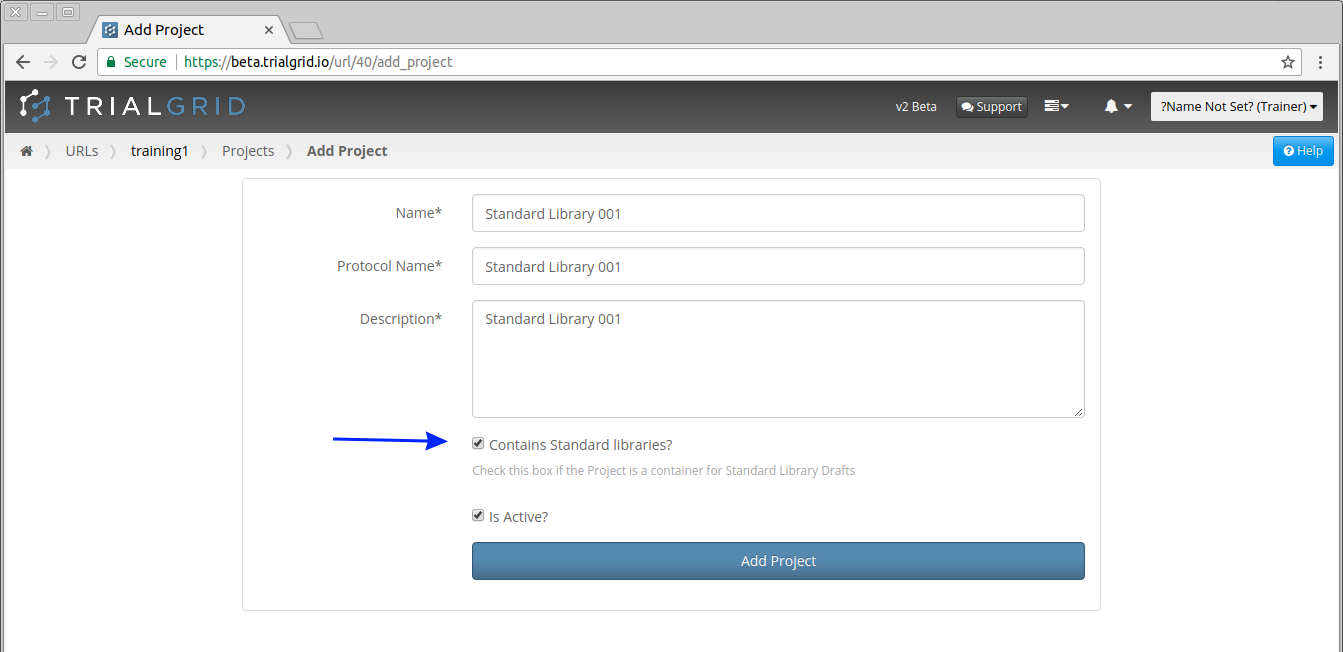 Important
Be sure to check the "Contains Standard Libraries?" checkbox. Unless this box is checked the Drafts you upload or create in this Project cannot be used as Standard Libraries.
Click the

button to create the new Project and open the home page for the Project.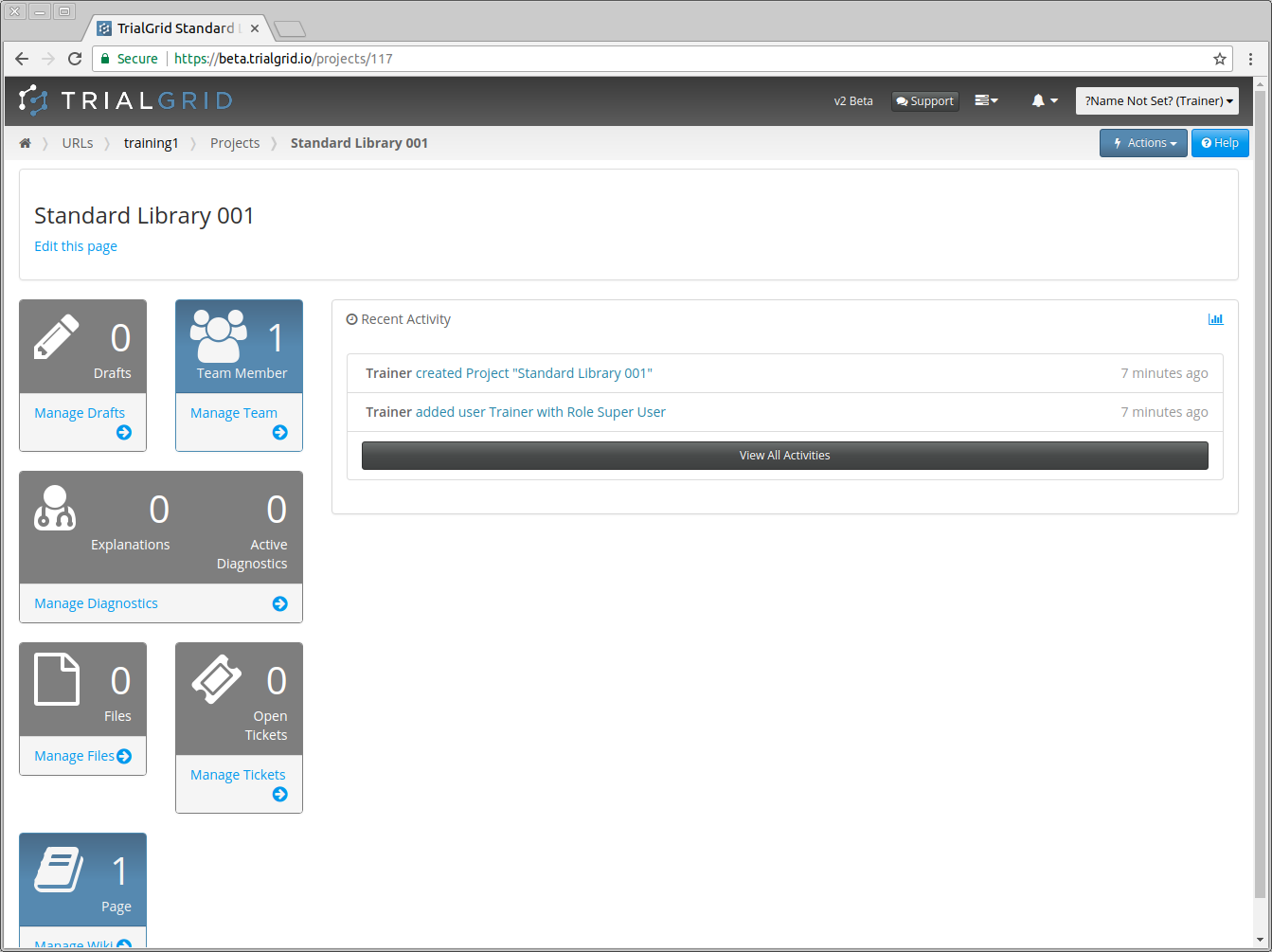 Note
You can see in the Project home page activities that the user that created the Project is automatically added with the Super User role. TrialGrid looks for a Role that has Manage Projects permission and assigns the creating user to that role automatically. If no Roles are defined for the parent URL then the creating user is not given a Role for the Project.
Similar to the URL home page, the Project home page has a number of cards which provide access to Project: